Oh good grief.  Okay let's recap.  Last Olympics………as in the summer ones back in 2012 there was the huge drama because Ralph Lauren had them made in China.
The outfit was a train wreck in 2012.  But, against the other countries it was pretty good.  Which is not saying much.
But, now it's time to move on.  Ralph Lauren is back on the case for the Winter games.  I guess there are not any other designers in the USA *cough Tommy Hilfiger Kate Spade Tory Rachel Zoe*  Oh my gosh can you imagine if Rachel Zoe had done the outfits?  That could have been kind of fun!!!!
So here we go……………..
I think the sweater coat jacket cardigan?  What is it?  It looks uncomfortable!  I have issues with wearing tight fitting sweaters with other shirts under them.  It for some reason makes me feel like I may be smothered.  I heard that it was based on an American quilt.
Who dresses in the US based on a quilt?  Other than when Dolly Parton had a coat made like that when she was a child.
Of course if you know anything about anything you know that Dolly wore this coat so proudly to school and then the kids made fun of her.  What a bunch of brats!  What's funny is that she also grew up in the country where I am certain the kids that were making fun of her didn't amount to much.  Obviously Dolly did!  Living a happy life is the best revenge.  Bless all their hearts.  It's funny Dolly's coat is not that bad in my opinion!!!!
So the RL team says that they used an American quilt as inspiration.  I kind of see that.  But, not really!
The mittens are interesting.  The shoes are probably pretty comfortable for walking that long track!
I find it to be a very unisex outfit.  Which as a girl I don't like unisex items.  I like to be girlie.  Since we are getting so American on the outfit and it is RL why didn't they wear cowboy boots?  I am pretty sure they could have them embroidered with the flag or such?
Project Runway should have had the task of dressing our athletes.  This is just not doing it for me.  But, I wasn't exactly on the committee to get this accomplished.  I should be!  I need to see how I can make friends with those people!
But, when compared to a few of the other countries…….USA is winning thus far.
Norway……or is this a barber shop quartet?
This should make every bride out there rethink chevron going forward.
Germany
It's like Fancy Nancy from the children's books my daughter reads designed these.  They are hideous.
So far Canada looks like a knock off of US outfits.  But, that's typical, don't you think?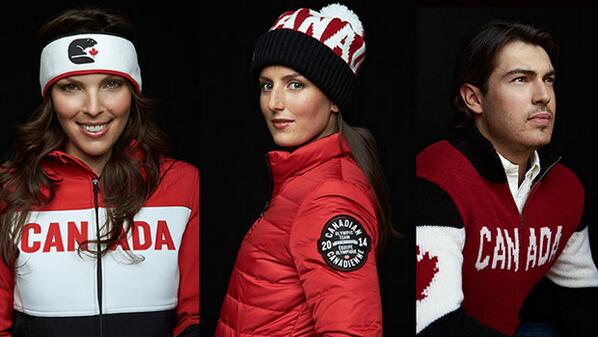 I can't wait to see the rest of the uniforms.  It's going to be worth a watch.  I can't wait!  I'll post again, don't worry!